Alyson Lin Hildum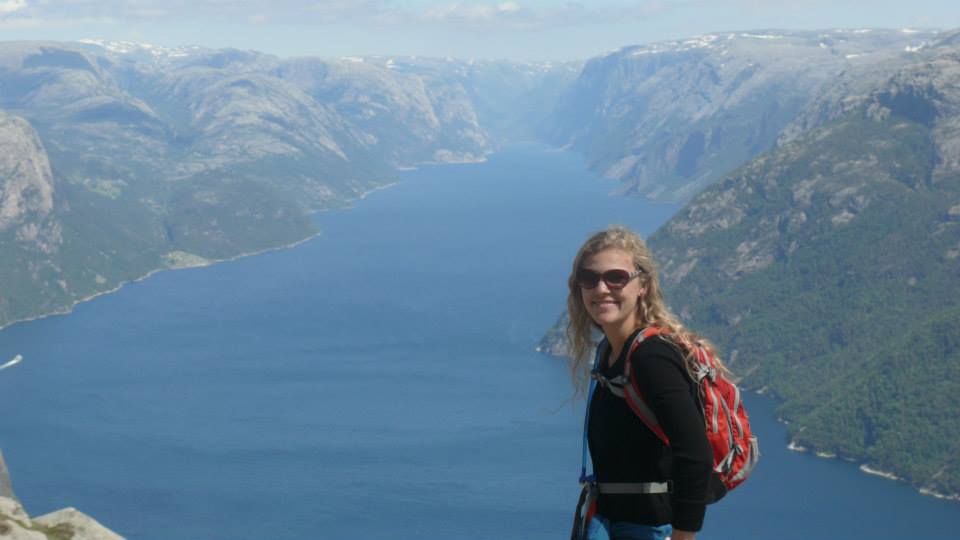 Hello! This is my webpage, last updated September 4, 2014.

Are you looking for someone named Alyson Burchardt? Well that's me. I'm just married now.


---
About me:

I'm a 2nd year postdoctoral fellow at McMaster University in Hamilton, ON working with Ian Hambleton. Our work together involves extending the research of I. Hambleton, M. Kreck, and P. Teichner in classifying geometrically 2-dimensional 4-manifolds up to s-cobordism to the case of 4-manifolds which have fundamental group isomorphic to certain right-angled Artin groups.

---
Office:

Hamilton Hall 319, Department of Mathematics and Statistics, McMaster University


Email address:

ahildum "at" math "dot" mcmaster "dot" ca


Research Interests:

Low-dimensional topology.
I've been known to read/think/learn/talk about knots, braids, surgery theory, K(G,1) spaces, Heegaard-Floer theory, Combinatorial Heegaard-Floer theory, RAAGs, and of course, 4-manifolds.

---
I received my Ph.D. from Brandeis University in May 2013, advised under Daniel Ruberman. My dissertation research involves minimizing the Euler characteristic of a 4-manifold with specified fundamental group a right-angled Artin group, and is summarized in my paper on the arXiv, and soon will appear in AGT.

---
Current teaching at McMaster University:

Math 1ZA3 Calculus for Engineers (Fall 2014)

Past teaching:

at McMaster University:

Math 1B03 Linear Algebra for Science (Spring 2013)
Math 1ZC3 Linear Algebra for Engineers (Spring 2013)
at Brandeis University:

MATH 10a Differential Calculus (Summer 2012)
MATH 10b Integral Calculus (Spring 2011)
MATH 10a Differential Calculus (Fall 2010)
MATH 10a Differential Calculus (Spring 2010)
MATH 5a Precalculus (Fall 2009)
---
Invited Talks


The minimum $b_2$ problem for right-angled Artin groups. 8/22/14, Workshop on Topology and Invariants of 4-Manifolds

The minimum $b_2$ problem for right-angled Artin groups. 3/23/13, 47th Spring Topology and Dynamics Conference

The Hausmann-Weinberger 4-manifold invariant for right-angled Artin groups. 3/31/12, Indiana Graduate Student Topology Conference
---
Other talks I've given in the past:
An introduction to knot concordance. 7/24/14, McMaster Knot Theory Seminar

The minimum $b_2$ problem for right-angled Artin groups. 10/31/13, McMaster Geometry/Topology Seminar

An introduction to the classification of 4-manifolds and Kirby calculus. 4/3/12 and 4/17/12, Brandeis Topology Seminar
On the Tristram-Levine signatures of a knot. 10/18/11, Brandeis Topology Seminar Algebraic obstructions to concordance. 10/4/11, Brandeis Topology Seminar
Some knots with surgeries yielding lens spaces. 4/26/10, Brandeis second-year-seminar
Abstract: John Berge wrote an unpublished paper on knots with surgeries yielding lens spaces in which he characterizes these knots in a genus 2 Heegaard splitting of S^3. He conjectured that all knots that have surgeries yielding lens spaces are of this characterization. He also gives a method for finding the exact lens space resulting from surgery of a particular knot, given that we know the homology class the knot represents in the Heegaard splitting. I'll give some introductory definitions/explanations on handlebody decompositions, Heegaard splittings, 0- and 1-bridge knots, and Dehn surgery before I start to talk about the theorems in the paper.
An introduction to the Braid Group. 2/9/10, Brandeis Topology Seminar
---
Conferences