Adam Van Tuyl

Department of Mathematics and Statistics
McMaster University
Hamilton, ON, Canada
L8S 4L8
vantuyl@math.mcmaster.ca
Note: If there is paper you would like, but cannot get here, please contact me and I'll see what I can do.
Ideals of Powers and Powers of Ideals: Intersecting Algebra, Geometry, and Combinatorics. (with E. Carlini, H.T. Ha, and B. Harbourne).
Lecture Notes of the Unione Matematica Italiana, 27, Springer, 2020.

Arithmetically Cohen-Macaulay Sets of Points in P1 x P1 (with E. Guardo)
SpringerBriefs in Mathematics, Springer, 2015.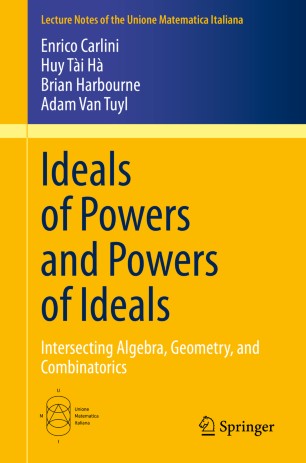 Papers in refereed journals
Preprints and Work in Progress
Some of these preprints are avaiblable at Mathematics ArXiv.
Geometric vertex decomposition and liaison for toric ideals of graphs. (with M. Cummings, S. Da Silva, J. Rajchgot)
Preprint (2022).
(with C. Francisco and A. Hoefel) EdgeIdeals: a package for (hyper)graphs.
The Journal of Software for Algebra and Geometry 1 (2009) 1-4.
Here is the Macaulay 2 code for this package.
Chromatic numbers via commutative algebra.
CMS Notes 15 (2019) 14--15.
A Beginner's Guide to Edge and Cover Ideals
In Monomial Ideals, Computations and Applications
Lecture Notes in Mathematics Volume 2083, 2013, pp 63-94
Papers in non-refereed journals
Unpublished Papers
The Field of N-Torsion Points of an Elliptic Curve (2001).
An unpublished paper containing some results of my Master's thesis; this is the final version.
Theses
Sets of Points in Multi-Projective Spaces and their Hilbert Function.
(2001) Ph.D. thesis, Queen's University. (PDF file)
The Field of N-Torsion points of an Elliptic Curve over a Finite Field.
(1997) M.Sc. thesis, Queen's University. (PDF file)
An Introduction to the Theory and Applications of Continued Fractions.
(1997) B.Sc. thesis, Calvin College. (PDF file)
Reviews
A list of my reviews for Mathematical Reviews. (Need access to MathSciNet)