<![if !vml]>
<![endif]>
Photographed in 2009 by G Ashford
In the University of Toronto Library
RONALD HAMBLETON
.: Sixty-five years of freelance writing :.
<![if !vml]>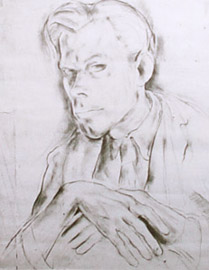 <![endif]>
Sketched in 1941 by Canadian artist Jack Nichols (1920 - 2009)
Ronald Hambleton, born in Preston, Lancashire, England, came out to Canada with his family at the age of seven. Settled in Vancouver, he had to leave school in his mid-teens to help support the family during the depression, working first as an office boy in a law firm, later as a shipper for a wholesale clothing jobber, then as a Customs & Excise messenger. Self-taught in music from age fourteen, at night-school he picked up shorthand and typing and a smattering of Italian and German; became involved with a Little Theatre group, and began serious writing. Apart from a short poem in the Vancouver Sun's "Daily Poem" feature in 1936, his first publication was in "Townsman", a literary journal published in Cornwall by the English playwright Ronald Duncan.
Over the seven decades since then, he has published eleven books ranging from novels to verse to biography (including profiles of the founders of brand-name businesses), and from true crime to classical legend. In the broadcast media, his versatile activities have included radio scripts, TV plays and documentaries and reportage in newspapers and magazines in both Canada and the United Kingdom. After the war he was one of the first Canadian writers to travel to Europe to interview noted authors and musicians. He created 14 varied series for the CBC, including a 13-week series marking the Corporation's 25th anniversary; as well as several special documentaries (including a TV special celebrating Stravinsky's 80th birthday).
For the stage, he contributed (with Lou Applebaum) an entertainment for the Shaw Festival, and with Raymond Pannell an opera libretto for the Canadian Opera Company.
In journalism, he has written for Macleans and Saturday Night, and in 1972 created a weekly column which ran for five years in Marketing Magazine. For thirty years he was a music reviewer for the Toronto Star, and at various times has contributed music reviews to the Western Morning News, Exeter, Devon, The Strad, London, England, the Canadian Broadcasting Corporation and to the Toronto Globe & Mail.