New paper on fracture in elastic - perfectly plastic materials
A new article based on the algorithm and code implemented by E. Tanné in his thesis (Tanné, 2017) has been accepted in Computer Methods in Applied Mechanics and Engineering (Brach, Tanné, Bourdin, & Bhattacharya, 2019).
One of the interesting features of this paper is the identification of pinning of cracks due to the interaction of plastic and fracture dissipation in a homogeneous material!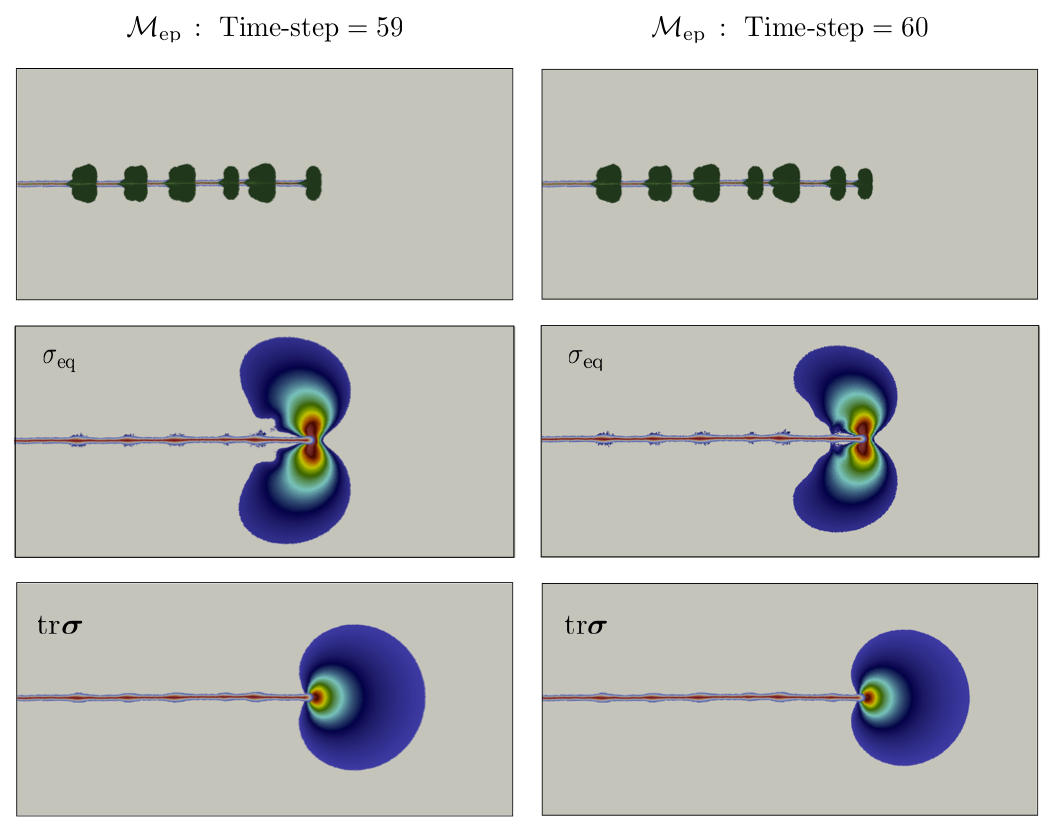 Crack, plastic strain and stress evolution between two successive time steps showing pinning of a crack tip in a homogeneous elastic - perfectly plastic material.
This work was supported in part by a a joint grant from the National Science Foundation (Grant No. DMS-1535083 and 1535076) under the Designing Materials to Revolutionize and Engineer our Future (DMREF).
References
Tanné, E. (2017, December). Variational phase-field models from brittle to ductile fracture: nucleation and propagation (PhD thesis). Université Paris-Saclay, École Polytechnique.
Brach, S., Tanné, E., Bourdin, B., & Bhattacharya, K. (2019). Phase-field study of crack nucleation and propagation in elastic-perfectly plastic bodies. Comp. Meth. Appl. Mech. Engng., 353(15), 44–65. DOI:10.1016/j.cma.2019.04.027 Download