Guiding and Trapping Cracks With Compliant Inclusions for Enhancing Toughness of Brittle Composite Materials
Another paper on fracture in heterogeneous materials (Brodnik et al., 2020) is appearing in the Journal in Applied Mechanics.
In this article, we follow again the formalism originally of (Hossain, Hsueh, Bourdin, & Bhattacharya, 2014) for determining the effective toughness of a microstructure and use it to build composite materials with enhanced fracture toughness. We perform quantitative comparison between experiments and numerical simulation, validating our formalism and phase-field computations. Note in particular how small variations of the location of an initial crack can have large effects on crack pats, which we can capture numerically.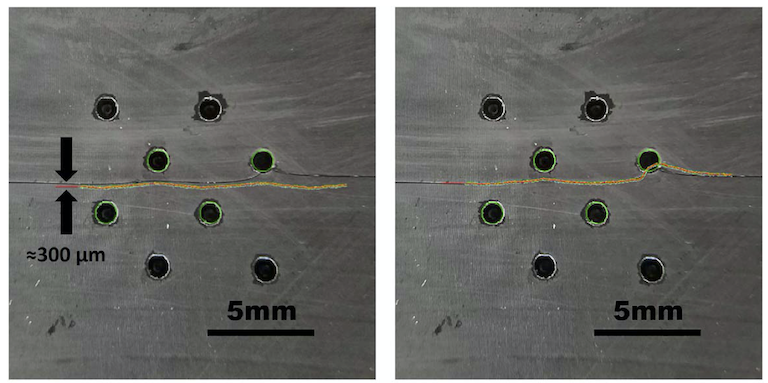 Weak pinning of a crack propagating through layers with different elastic moduli at a shallow angle.
This work was supported in part by a a joint grant from the National Science Foundation (Grant No. DMS-1535083 and 1535076) under the Designing Materials to Revolutionize and Engineer our Future (DMREF).
References
Brodnik, N. R., Hsueh, C.-J., Faber, K. T., Bourdin, B., Ravichandran, G., & Bhattacharya, K. (2020). Guiding and Trapping Cracks With Compliant Inclusions for Enhancing Toughness of Brittle Composite Materials. J. Appl. Mech., 87(3). DOI:10.1115/1.4045682 Download
Hossain, M. Z., Hsueh, C.-J., Bourdin, B., & Bhattacharya, K. (2014). Effective toughness of heterogeneous media. J. Mech. Phys. Solids, 71, 320–348. DOI:10.1016/j.jmps.2014.06.002 Download